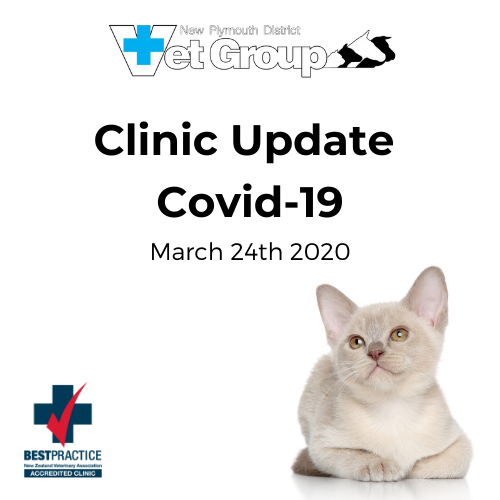 Clinic Update – COVID-19 – 24th March 2020
New Plymouth Districts Veterinary Group
Following the Government's announcement moving the country onto Covid 19 alert level 4, effective midnight Wednesday 25th March 2020 we are making changes to how we operate for the next four weeks.
Small Animal Services:
WE are going to a "minimum" staffing level with staff being on different rosters to enable us to manage their "exposure" and to assist in maximizing their time in self isolation.
Non urgent consultations will be cancelled – we are ringing affected clients. Sick animals will continue to be seen.

All appointments must be made over the telephone (06-7584006). Please do NOT book online or "drop in". When phoning in, tell staff if you have been overseas in the past fortnight, if you are in close contact with someone who has or if you have flu / cold symptoms (fever, sore throat, cough and "runny" nose).

Calls will be "triaged" resulting in some cases being discussed and diagnosed over the phone – we would arrange for you to collect the medication. Other cases will be seen at the clinic.

Repeat prescriptions will still be processed – we ask that you use the prescription request form on our website (www.npvet.co.nz). Repeat supplies of Prescription food can also be ordered via this form or by email to info@npvet.co.nz. A pickup time for these will be organised. Please do not "drop in" – organise in advance.

In order to reduce risk for our staff, during this period we will be insisting that only one person per animal comes into the clinic.
Large Animal Services:
We will have a large animal vet available. Wherever possible they will be operating from home. Bookings will continue to be made via the clinic.

Annual farm review and prescriptions will continue. We still require your "paper work" – this can be emailed to info@npvet.co.nz , the consultation will happen over the phone.

Currently, there are no drug supply issues. 

If you need to restock medications, please phone the clinic (067584006) in advance so that we can have the order ready for you.
Whilst, we are an essential service and will remain available to help you as required we can only do so if our staff remain Covid free. If you are unwell, if you have reason to believe you have been exposed to the virus DO NOT come to see us – send someone else (but tell us of this situation). Our staff would be required to stand down if we have an infected team member and that would severely jeopardise our ability to function. 
Please continue to be kind to each other, self-isolate and wash your hands.