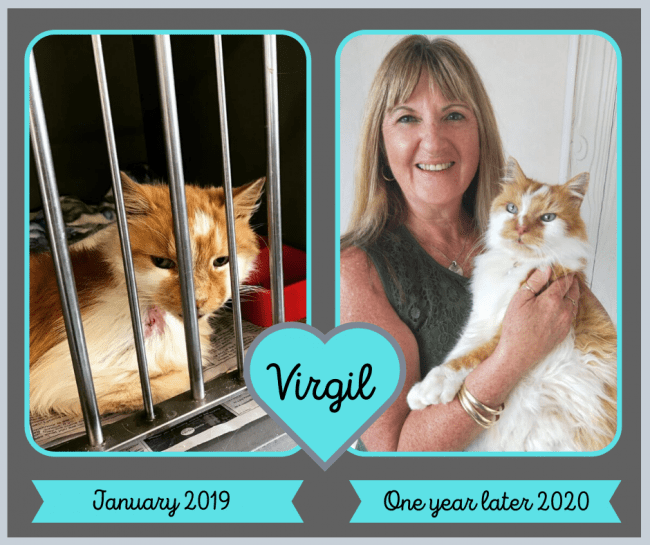 Rescued 'Virgil' finds happiness during his 9th life
From time to time, we have stray animals that end up at the clinic for various reasons.  While they are waiting to find their owners or be transferred to the SPCA our nurses and vets provide immediate medical treatment and daily care. There are certain stray's that draw on your emotions, and you find yourself starting to build a connection with them. This happened to our vet nurse Vivienne Cox and I asked if she would share her story with us.
---
Rescued Virgil finds happiness during his 9th life – written by Vet Nurse Vivienne Cox
Over the years, I have adopted many a stray but would particularly like to mention the latest member of our family who I believe with good food, care and lots of love has made an incredible transformation.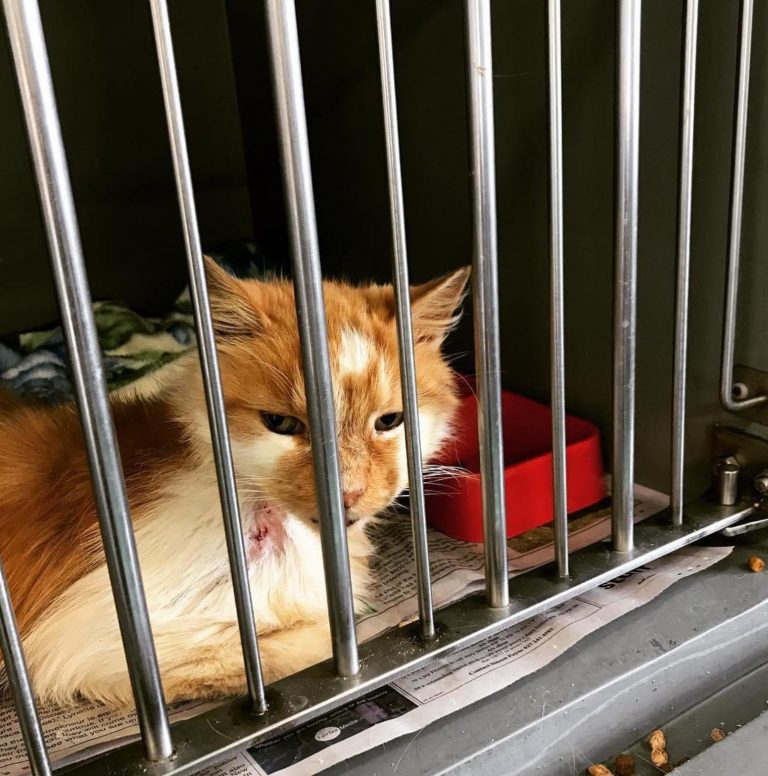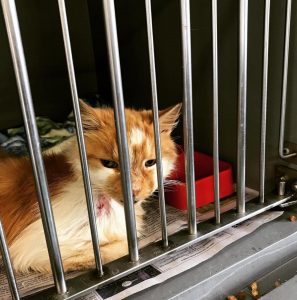 I walked into our cat room at work after my New Year's break in 2019. I saw there was this mangy thin scabby old ginger cat who had a big infected cyst on his face. He was pretty stinky and had been covered in fleas. He was bought into the clinic by someone who had found him wandering the streets and was worried about his welfare and health. He looked like nobody loved him. I remember thinking to myself I hope we find his owner because there is no way that anyone would be able to find him a home given his condition.
He was with us for well over a week, and no one came forward. We treated him with antibiotics, a steroid injection and gave him a flea and worm treatment to make him feel more comfortable and provided him with the best nutrition – Hills Science diet.  Every day I checked in on him and would spend some time talking to him.  All while trying hard not to get attached.  Given his age and his visible deterioration, I knew there would be no possibility of him being rehomed.
I keep looking at his little face scratching his thin little body trying to avoid his sore skin and scabs. He just looked a terrible mess.
I spoke with a couple of the vets who told me not to get attached, but it was too late, I was doomed. I organised a blood test for him which would determine if he had any major issues going on. Surprisingly his blood test came back fairly normal with no major concerns. We also tested him for diabetes, and he was fine. I rang my husband and said there is this mangy skinny scabby cat without a home. My husband said "you aínt exactly selling him to me" but bless his heart he said I could bring him home if I wanted to.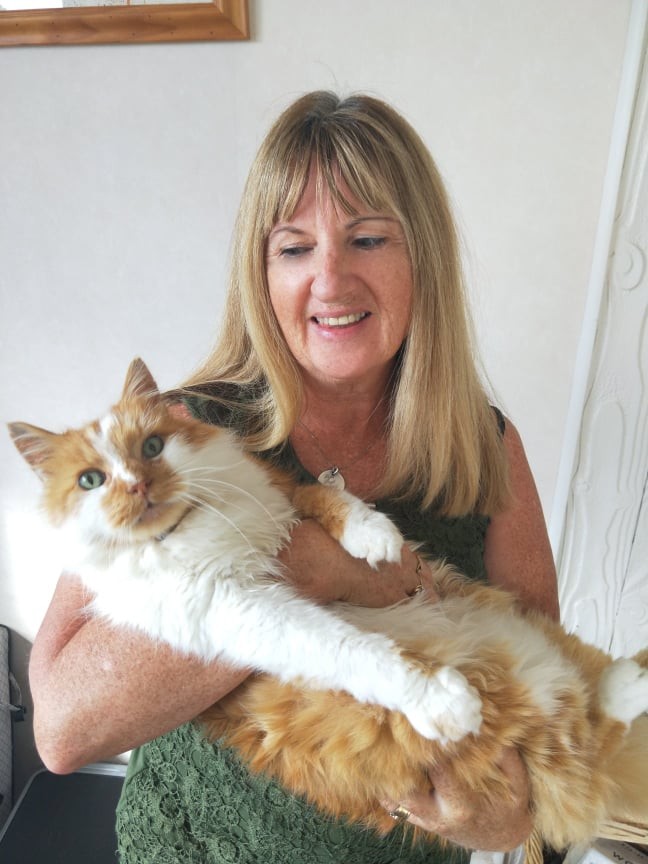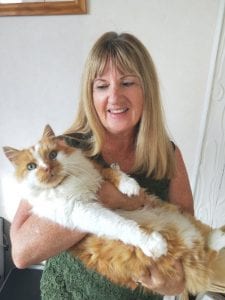 Because I already had another rescue cat at home who is fit and healthy, I thought it would be best to give this cat an FIV test. I decided that if the test came back positive, I wouldn't be able to adopt him, and ultimately his future would not be good.  It was an anxious afternoon because it takes a while for the test results to come through, and at this time, I realised I had bonded with him. I knew because when his test results came back negative, I was over the moon. So I looked at his funny little face and said, "guess what you are not going to heaven, not today – your coming home with me!"
So I took him home and thought we could give him a loving home if only for a few weeks. At this stage, he did not look very well and it was hard to determine how old he was. I was just looking forward to giving him a place to call home. We named him Virgil.
Virgil didn't like the bed I made for him and preferred sleeping on the floor. Over the following week, he bonded with us and chose my husband Jeff's knee to be the best spot in the house. I worried he wouldn't relate to indoor living as he loved the garden and I was concerned he might run away. I think he loved his food too much, so he decided our place wasn't so bad.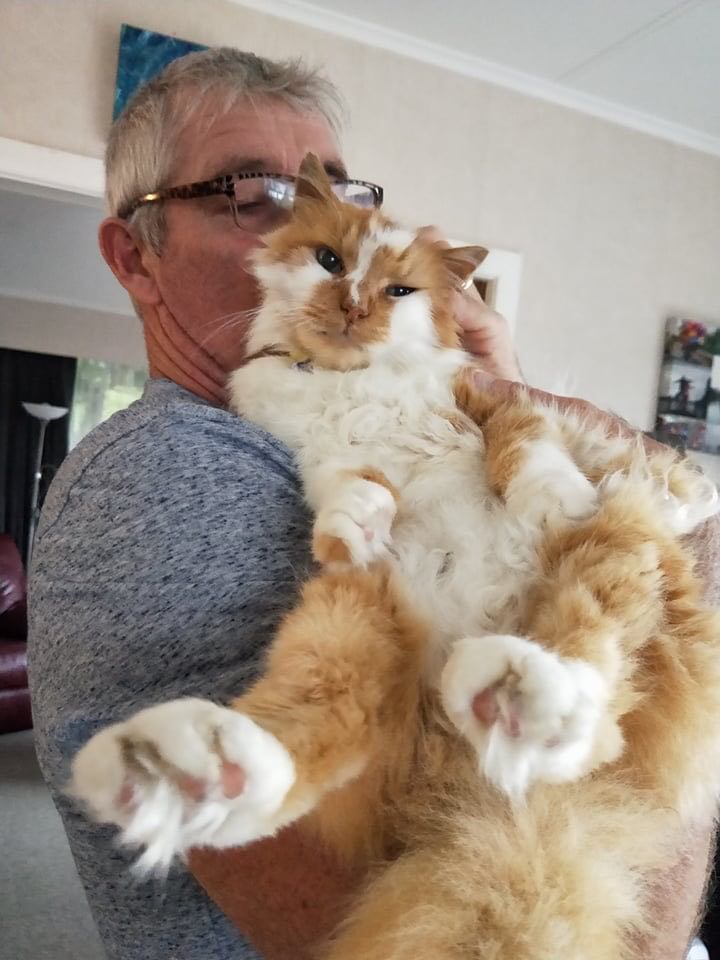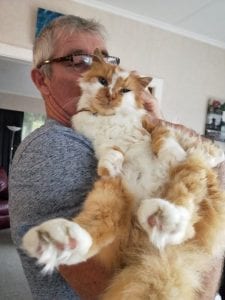 As time went on with good nutrition and lots of love he seemed to pick up and do well. I thought hmmmmm maybe he might be around for nine months! When anyone asked how old he was I'd say he was 100 years old. Looking back at photos of him and seeing the difference I'm thinking to myself I hope we get nine more years. Since having him he has received some overdue dental treatment and had the cyst removed from his face. He has ongoing skin issues, but he is on a prescription diet for this and receives the occasional steroid injection to keep this under control. He can be a bit stroppy with my other cat but they co-exist well together. He's a funny old fella who loves the sun, loves his food, purrs heavily and loves talking. My husband and I think we are the lucky ones.
Thanks, Virgil for enriching our lives – and it's nice we have been able to give you the best of your nine lives.