Small Animal Newsletter – May 2020
Moving to Level 2
On Thursday 14th May the clinic moves to Level 2. Our essential workers have been working extremely hard over the last 7 weeks since going into lockdown. We experienced a large volume of phone calls over this period, and we did our best to answer them. We have had to change the way we do things to keep everyone safe.
Moving forward, our clinic will be open to the public again. Our staffing will resume to their usual rosters, and social distancing between clients and staff will remain.
We are able to make bookings; however, we do have a large backlog of surgery cases to get through so please be patient with us when booking routine surgeries – we can assure you we are doing our best to accommodate everyone.
Consultations will resume with social distancing rules in place and will be limited to one adult per consultation. If you are feeling unwell, please do not visit the clinic – please arrange for someone else to bring in your pet.
Farm calls will also resume as usual.
Keeping safe, keeping our distance and washing our hands is now the 'new' normal.
Take care everyone.
---
Prescription Medicines
As of January 2020, legislation has been updated determining the length of time medications
can be prescribed for without subsequent consultations:
six months for registered veterinary medicines and prescription medicines
four months for critically important antibiotics
Essentially this means that we are not allowed to dispense repeat medications if we haven't seen your pet in the last six months and only three months' supply of medication is able to be dispensed at a time. These rules are designed to ensure the safety of pets and the public. If you aren't sure how this might affect your pet, please have a chat with your vet.
Just a reminder you can order your repeat prescription via our website https://www.npvet.co.nz/repeat-prescription-request-form/ by completing our request form.
---
Care of a pregnant guinea pig
Whether you have purposely put your guinea pig sow with a boar (male), or whether you have noticed your sow becoming very pearshaped lately, her care will be the same. Guinea pig females (sows) generally give birth and care for young very quickly, provided they are in good health and well-fed themselves.
The pregnancy of guinea pigs lasts 63 to 70 days, larger litters having a shorter gestation, and at the end of pregnancy, the sow will often have become alarmingly large! The first consideration is to provide separate housing for the boar because although he can safely be left with the sow
and her piglets, the sow will become pregnant again on the day she gives birth unless the male has been removed from the cage prior to this. During pregnancy, the sow's requirement for vitamin C doubles, to 20mg daily, and so very fresh fruit or vegetables must be given daily. Fresh food stored in the fridge, or cut into pieces, will lose a lot of its vitamin C after only a few hours. Also, the sow will need twice as much food as usual. The bedding must be kept fresh and clean, as ammonia fumes from wet bedding are damaging to the piglets.
In most cases, you will check your sow one day and find that she has regained a svelte shape, and has two, three or even more perfect miniature guinea pigs with her. Now you must feed her three times as much because the piglets will begin to eat solid food at 2 to 3 days old. Although the sow has only two teats, she will feed several piglets quite happily as long as she herself is well fed.
Care of Guinea Piglets
While a sow has a litter of piglets, she should be given as broad a range of her usual foods as possible. This is because the piglets "learn" what is "good food" and what isn't, in the first two weeks or so of life, from nibbling with the sow. If only one or two foods are offered, the piglets may be very reluctant to eat unfamiliar foods when they go to a new home, and may starve themselves. If the sow and her family eat all the food that is given them, then give more next time. Any food that is broken or dirty will not be eaten, and should be removed and replaced with fresh. As a general guide, you should feed ad-lib guinea pig pellets and water, and a handful of grass, fruit or veggies per guinea pig, per day. The piglets can be weighed in a small kitchen type scales to make sure they are gaining weight satisfactorily. They will typically be around 100gm at birth and should gain weight steadily.
The piglets can be weaned at three to four weeks old, or when they weigh 250gm. If there is a large litter, the males should be weaned first, into a separate cage, and then the females 2 to 3 days later. This avoids the risk of an udder infection if the sow has been producing lots of milk. Male piglets must be separated by four weeks old or breeding between littermates may occur.
---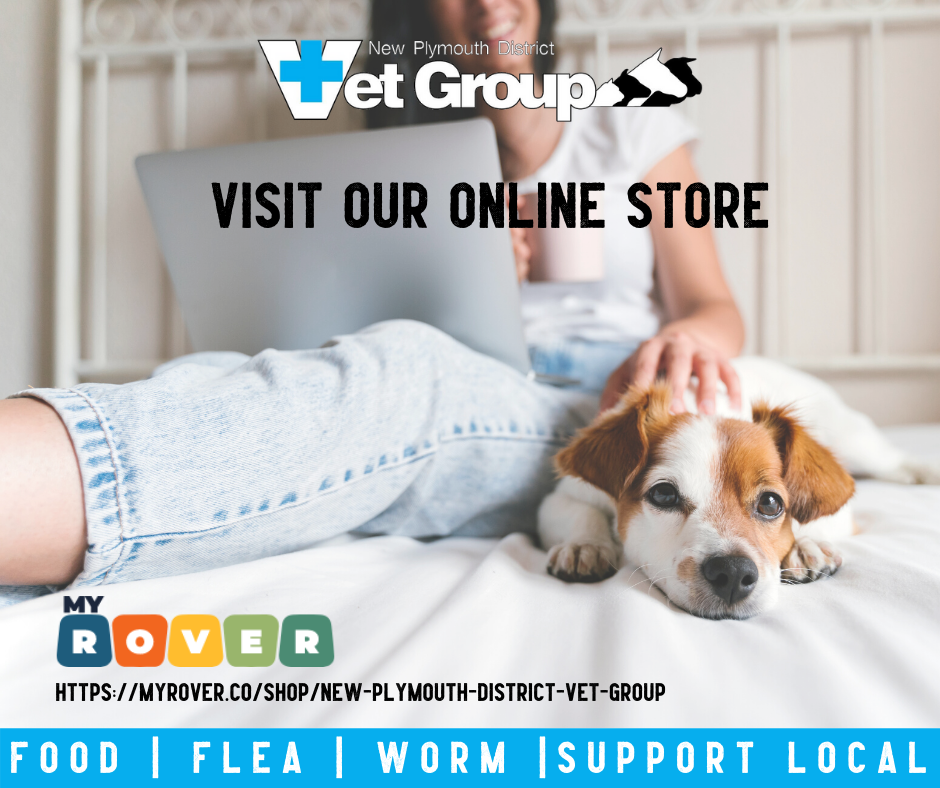 ---
When it's time to say goodbye
Over the past 7 weeks, have highlighted how important our 'pet bubble buddies' are. Some of you may be living with unwell or elderly pets and you might be looking for some information around when it's the right time to say goodbye. You can read our article on our website here.
It covers some of our frequently asked questions and about what happens after a beloved pet is put to sleep.
Coping with the decision to say goodbye to your pet is one of the toughest you'll ever make. Your pet has provided you with unconditional love, companionship and comfort so it is normal to find the decision-making process very difficult and heartfelt.
New Plymouth Vet Group's team of passionate and caring vets and nurses are here to guide you through the medical and 'quality of life' aspects of your pet's condition. We understand that this cannot ease the pain of loss but helping you make an informed decision will help with any self-doubt that may arise afterwards.
We are always available should you need to discuss this difficult decision.
---
Rescued 'Virgil' finds happiness during his 9th life
From time to time, we have stray animals that end up at the clinic for various
reasons.  While they are waiting to find their owners or be transferred to the SPCA our nurses and vets provide immediate medical treatment and daily care. There are certain stray's that draw on your emotions, and you find yourself starting to build a connection with them. This happened to our vet nurse Vivienne Cox and I asked if she would share her story with us. You can read here story here.
---
Staff Showcase
Veterinarian – Nicola Carroll
After working as a locum veterinarian in the UK, Nicola returned to New Plymouth and has been a member of the NP Vet Group since 2011. Her areas of expertise include both small and large animal surgery. Each day, she strives to provide the highest quality care possible, while managing a varied and busy workload. She recently worked on a challenging case that involved repairing a harelip on a bichon frise puppy, which has since healed so well that it's impossible to tell there was ever an abnormality. Outside of work, Nicola enjoys playing with her children and caring for her farm animals and her horse. At the end of a busy day, Nicola loves to enjoy a delicious meal at home with her family.
---
Instagram superstar
Meet Miss Penelope (aka Nellie) – such a gorgeous puppy.
Have you checked out our Instagram page yet? Updated daily – Meet our pet visitors and patients! Click here!
Disclaimer: This newsletter contains comments of a general nature only and is not intended to be a substitute for professional veterinary advice.