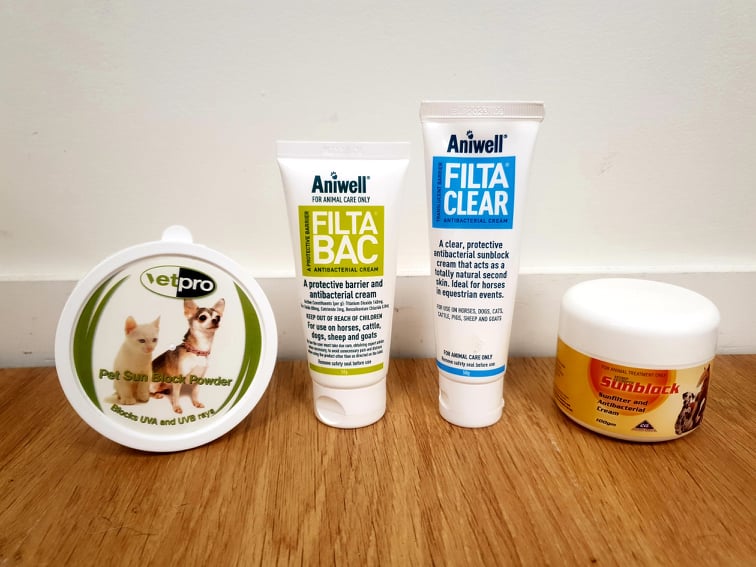 Did you know that our pets face similar risks from the sun like us?
October to March are the high-risk months and we recommend using a pet sunscreen. For any pets who enjoy sunbathing or time out in the sun and have areas of white or pink (unpigmented) skin, the risk is significantly greater.
We stock the following creams and powders for Sunblock options:
Aniwell FiltaClear 50g – Our Price $15.70
Provides excellent Sunblock protection at an SPF of 24-27 cover.
Is clear translucent cream so doesn't rub off everywhere!
Suitable for cats and dogs as has a bittering agent to minimise licking.
Provides a protective barrier and is an antibacterial cream.
Suitable for horses, cats, dogs, sheep, and cattle.
Aniwell FiltaBac 50g – Our Price $11.30
Provides excellent Sunblock protection at an SPF of 29-33 cover.
Provides the ultimate in animal antibacterial skin protection for wounds, sunburn, sunblock, and irritated skin conditions.
Suitable for most animals like horses, dog, sheep and cattle – does say to seek veterinary advice before using on cats.
Vetsep Sunblock 100gm  – Our Price $27.50
A sun filter and antibacterial cream for dogs, cats, horses, cattle, sheep, pigs, and goats.
Also useful as an antiseptic wound protectant cream for damaged and broken skin areas.
Contains zinc salts & titanium dioxide well known for their sun protection benefits.
Vetpro Pet Sun Block Powder 50g –  Our Price $17.50
A natural mineral powder
non-irritant
Long-lasting
Blocks UVA and UVB rays
Available for Horses and Cats and Dogs.
*prices are subject to change without notice.