Small Animal Newsletter – December 2019
Merry Christmas from the Vet Group
From all of us at New Plymouth Vet Group, we would like to wish you a very Merry Christmas and a Happy New Year. We hope that your holiday season is full of fun, laughter, good times and great memories.
Thank you for your loyalty and support over the past year, we're already looking forward to seeing your fur babies again in 2020 and beyond…
Best wishes from the whole team at the New Plymouth Vet Group!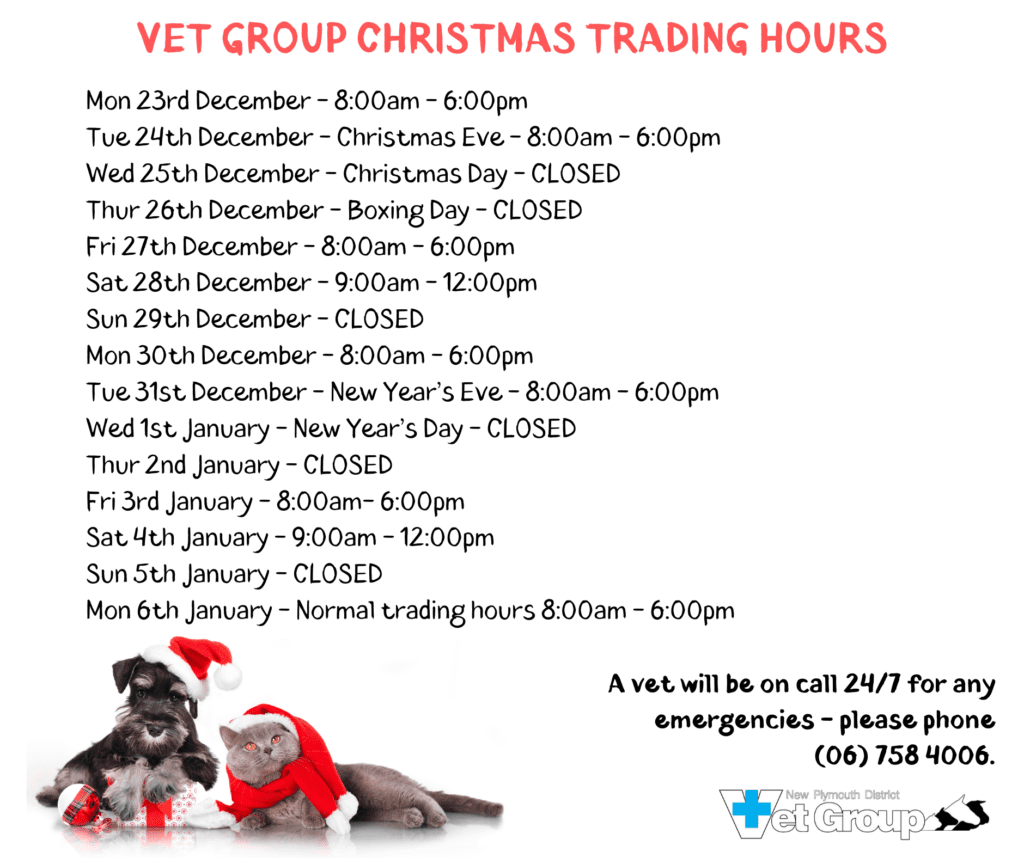 ---
'Christmas Pet' Hazards 
Christmas lunch and cooked bones: We all like to include our fur babies in our festive gatherings but please be careful not to feed your dog leftovers from the Christmas lunch or dinner. Cooked bones can be very dangerous, as the sharp and brittle pieces can be broken off and easily get stuck in your dog's throat or stomach. Both cooked and uncooked meat can cause canine pancreatitis and this can potentially be fatal to your dog. Other things to avoid are Christmas pudding as this contains ingredients which are toxic to dogs. Get prepared and purchase some 'dog-friendly treats' that you can give while enjoying your Christmas lunch and dinner or try making your own.
Other foods that are not safe for your pet include:
Fruit Cake
Alcohol
Caffeine
Macadamia nuts
Onions and chives
Pitted fruits like peaches, plums, persimmons
Apple seeds
Xylitol (found in sugarless treats)
Corn Cobs
Pork Cracking, sausages and fatty meats
Avocado
Raisins
Spices such as curry, paprika or cayenne pepper
Garlic
Grapes
Walnuts
Butter and dairy foods
Presents: be mindful that your dog has a great sense of smell and might want to rip into your unopened Christmas presents early exposing them to substances and food that can be harmful to them.
If you or your children get given chocolate as a gift, make sure you put it high out of reach from your dog, otherwise, you might need the assistance of our after-hours vet! This does happen a lot over the Christmas break.
Houseguests, Noise and Chaos: Cats are highly sensitive to noise. Many are shy or nervous around strangers. The general chaos of the holiday season can stress out your cat. Make sure you provide a safe, comfortable place for your cat to hide. Ask guests not to leave doors open so your cat won't get out. Better yet, close your cat in a comfortable room with soft beds, food, water, and a litter box. We have some great over the counter products at the clinic which can help with stress.
---
Kumara and peanut butter doggy treats
Why not make your own doggy treats for Christmas! Just make sure when using peanut butter you use a brand that is pure with no additives and doesn't contain Xylitol.
MAKES 20 BISCUITS
TIME: 45 mins
Recipe extracted from https://www.healthyfood.com/healthy-recipes/kumara-and-peanut-butter-doggy-treats/
You will need:
Cookie cutters, such as a bone shape, dog shape or a round fluted one
2 baking trays
baking paper
Ingredients:
I cup of wholemeal flour
1/4 cup rolled oats
3 tablespoons fresh chopped parsley
1/3 cup cooked mashed orange kumara
3 tablespoons smooth peanut butter
1 egg, lightly beaten
3-4 tablespoons water
Instructions:
Preheat oven to 180°C. Line 2 baking trays with baking paper and set to one side.
In a bowl place flour, oats and parsley. Stir together to mix ingredients evenly.
 Add kumara, peanut butter and egg and mix thoroughly. Slowly add water to make a firm dough. Knead with your hands for a few minutes to make a smooth dough.
Place dough between 2 pieces of baking paper. Using a rolling pin, roll out to about 1/2cm thick.
Peel back top piece of baking paper and use the cutter to cut out cookies. Reroll remaining dough and cut out more cookies. Slide a knife under each shape to loosen it from the paper and then place on prepared baking trays. Repeat until all dough is used up.
Bake for 25 minutes or until cookies are firm and golden brown. Cool completely before placing in a container and sealing.
Send us your baking snaps to: npvetmarketing@gmail.com – I would love to see your doggy cookies! You might even win a prize!
---
Staff Showcase
Veterinarian – Dr Ross Gadsby 
With years of experience, Ross is a long-standing member of our veterinary team and is our Large Animal Team Leader. Ross joined our team after graduating in 1991 and has been with us ever since. His area of expertise is in large animals and the dairy sector. Ross is a lively member of our team and his sense of humour keeps us on our toes. He enjoys working with his team (who learned a long time ago to be wary of his pranks!) and enjoys the varied aspects of his job. If you catch Ross daydreaming, chances are he's thinking about owning a Malcolm Tenant Catamaran and a bach in Kerikeri – or maybe his next bite of French Vanilla ice cream. Ross has a range of domestic pets and these include two dogs, Colin who is a Jack Russell x Min Schnauzer and Frank who is a Golden Retriever and a Birman called Shadow.
---
Our Instagram Superstar
Meet Poppy! She called into the clinic to share some Christmas cheer!

Have you checked out our Instagram page yet? Updated daily – Meet our pet visitors and patients! Click here!
---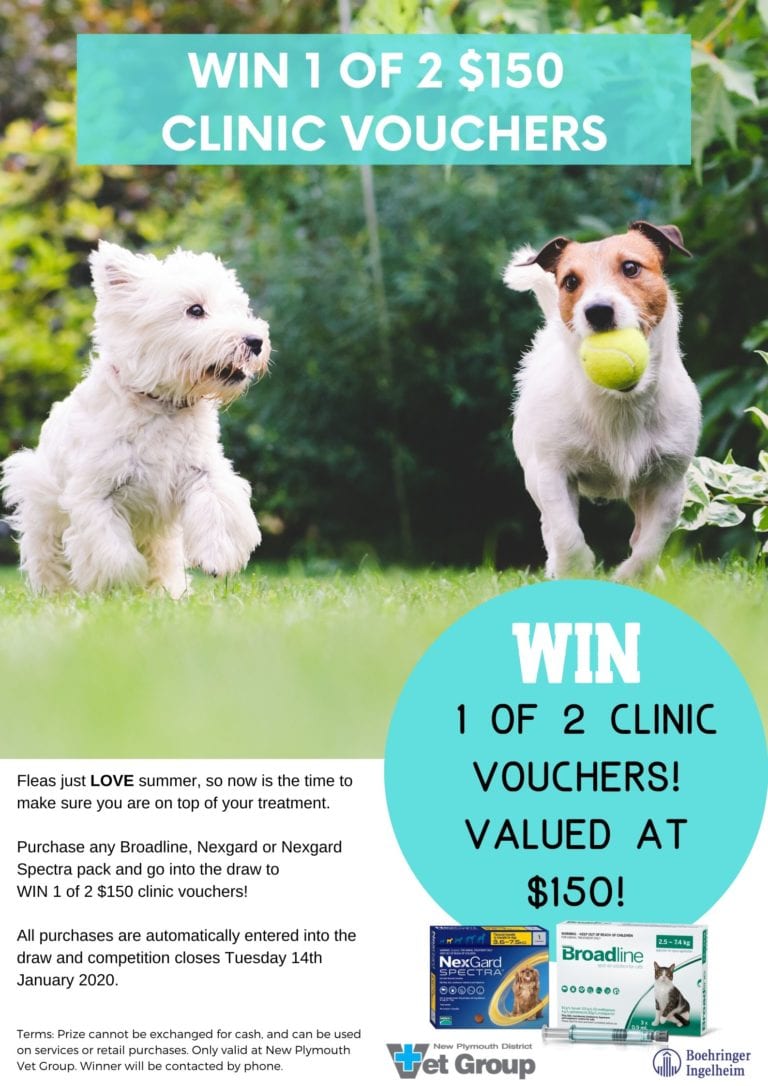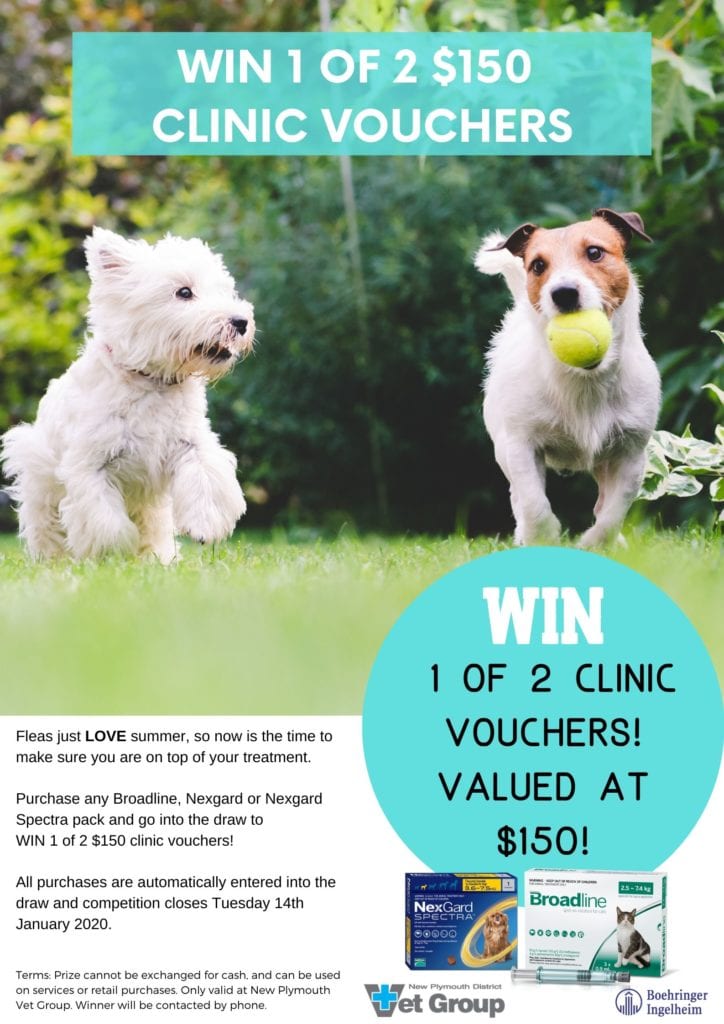 Disclaimer: This email contains comments of a general nature only and is not intended to be a substitute for professional veterinary advice.