Small Animal Newsletter – January 2020
BESTPRACTICE®
WE HAVE NEWS! We are very excited to announce that New Plymouth Districts Vet Group has been awarded the status of BESTPRACTICE® Accredited Veterinary Clinic by the NZ Veterinary Association – we are the first and only practice in the Taranaki region to gain this recognition.
Achieving BESTPRACTICE® Clinic Standards will give you, our client, confidence that the staff and clinic have undergone a rigorous auditing process to meet the very high standards as set by the NZ Veterinary Association.
Our staff are committed to maintaining these standards, continuing their professional development, sharing of knowledge and providing unrivalled and compassionate veterinary care that considers the personal needs of both animal and owner.
For more information about BESTPRACTICE®, you can visit the NZVA website here.
---
Australian Bush Fires Donation
A few weeks ago we delivered many jam-packed boxes filled with various items (from which you had donated) for the Australian Bush Fires via The Saddlery Warehouse. It included bandaging, bedding, towels and some beautifully handcrafted pouches, wraps and mittens.
All of your generosity absolutely blew us away and it was nice to be able to offer some support for our neighbours at this devastating time. Big thanks to our nurses who organised this and to The Saddlery Warehouse.
---
Nurse Consults
We have a talented team of highly skilled and qualified veterinary nurses. They are available for a range of consulting and 
treatment procedures throughout the day.
Our complimentary nurse consults include:
Suture Removal
Administering medications including flea and worm control
Weight checks and advice
Nutritional advice
Bereavement Support
Dental checks
Canine Mobility clinic
Nurse consults that will incur a fee include:
Nail clipping
Clipping knots
Microchipping
Please call to make an appointment for your nurse consultation (06) 758 4006 or use our online booking function.
---
Fish Hooks
With this gorgeous weather, I'm sure of few of you have been dusting off the fishing boxes and have headed out for some enjoyable fishing.


Please be mindful of your fish hooks and lures and to keep them out of the reach of your pets (especially dogs) who can be attracted to the fishy smell, and accidentally swallow the hook or get them caught in their lip.
This can be very painful and unconformable for your pet, not to mention expensive if they require the hook to be surgically removed.
---
Ear Mites
What are ear mites?
The ear mite (Otodectes cynotis) is a surface living mite which lives on cats, dogs, rabbits and ferrets. It is usually found in the ear canal, but it can also live on the skin surface. The whole of the life cycle takes place on animals. Cats become infested by direct contact with an infested animal. The mite is just visible to the naked eye and can be seen as a white speck moving against a dark background.
What effect do ear mites have on cats?
Ear mites are by far the most typical cause of feline ear disease. They are the second most common ectoparasite found on cats; the most common is the flea. Infestations are most common in kittens and young cats, although cats of any age can be affected. Clinical signs of infestation vary in severity from one cat to another and include combinations of:-
ear irritation causing scratching at the ears or head shaking
a dark waxy discharge from the ear
areas of hair loss resulting from self-trauma – scratching or excessive grooming
a crusted rash
aural haematoma – a large blood blister caused by rupture of small blood vessels between the skin and cartilage of the ear usually on the inner aspect – caused by scratching at the ears
Skin lesions most frequently affect the ear and surrounding skin, but uncommonly other areas of the body may be affected.
How are ear mite infestations diagnosed?
Typical clinical signs with a history of contagion (spread) between cats or cats and dogs would suggest the involvement of ear mites. Over 50% of feline ear disease is caused by ear mites. However, other conditions can result in very similar clinical signs.
A vet can make the diagnosis by demonstrating the mite. This is usually straightforward and may be done either by examination of the cat's ears with an auroscope or by microscopic examination of discharge from the ear. If the ears are very sore, the cat may need to be sedated or given a general anaesthetic to allow the ears to be properly examined.
How can I get rid of ear mites from my cat?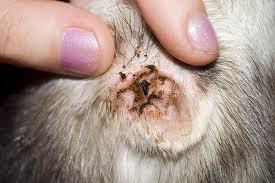 A three-pronged attack is required:-
treat the ears of all affected and susceptible in-contact animals
treat the skin of all affected and susceptible in-contact animals
treat the indoor environment because the mite is capable of limited survival off animals
Your vet will advise you about which insecticidal products are suitable. There are several ear medications licensed for the treatment of ear mites. There are no products licensed for use on the house or on animal's skin but products licensed for flea control are effective.
Do ear mites affect people?
Ear mites may cause an itchy rash on susceptible people if there are infested animals in the household. Eradication of the mites from the animals will cure the problem.
---
Staff Showcase: Vet nurse – Tayla McDonald
Meet Tayla – one of our newest team members. Having been brought up on a farm, her love of animals began at a young age. Let's say, if you were a stray animal, it was likely you would end up in Tayla's care. Tayla has completed her Vet Nursing Certificate and is currently doing her Diploma. She enjoys the varied nature of her job and appreciates that each day is different from the one before. Tayla is always willing to go the extra mile and has a very compassionate and caring nature. She loves being able to nurse her pet patients and finds it most rewarding when they start to improve. Her biggest highlight so far since working at the Vet Group has been holding a baby kiwi. (We all were a bit jealous of that one!) She is a well-traveled lass who was originally born in New Plymouth but had shifted ten times before she was 5. This included living in England and Ireland! She lives with her dog called Brax who is a Staffy she rescued from the SPCA. When she finally gets some timeout from her busy schedule, you will find these two out on adventures together or spending time with her friends.
---
Our Instagram Superstar
This stunning Hawk was brought into us this month. He has since been released back where he was found. Such a handsome bird!


Have you checked out our Instagram page yet? Updated daily – Meet our pet visitors and patients! Click here!