NEW! 'Book My Vet' Mobile App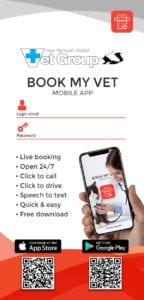 Booking a routine appointment just got a whole lot easier with our Book My Vet mobile app.  Download the app from the App Store or get it on Google Play.
Initial setup is easy – if you're an existing client you will just require an email address to be loaded in our system and your client number to use as your password. The app allows you to save your details and even see all your pets reminders. You will only have to login once. How handy is that? Not an existing client? That's ok! You can still quickly book as a guest account and we can then contact you with login details.
If you already receive your statement via email you will already have your login details.
Please remember if you do have an emergency please contact us on (06) 758 4006 as this app should only be used to book routine appointments like vaccinations, health checks etc.